What makes your ecommerce business a success?
Products.
People.
Platform.
The right products bring the right kind of people to your ecommerce store. A platform like Magento influences how your customers experience your store from the first click to getting the product delivered to their homes.
If you have an exceptional ecommerce platform like Magento Commerce, your goal of having a thriving ecommerce business is already half done. 
Magento Commerce offers your potential customers an immersive shopping experience online.
However, it's not always about customers either. It's about the people - in front and behind the store. 
After all, you, the entrepreneur, and your team do all the groundwork that facilitates and streamlines a seamless online operation.
The ability to quickly add more products, curate personalized catalogs, integrate advanced functionalities and third-party tools easily, accommodate traffic, and fulfill hundreds if not thousands of concurrent orders help you scale your ecommerce store.
This PHP-based ecommerce platform boasts fast and vastly scalable out-of-the-box functionality.
Developed by Adobe Commerce, Magento Enterprise Development, aka Magento Commerce, is a feature-rich ecommerce solution that offers advanced features with enhanced capabilities, scalability, performance, increased customer trust and loyalty, and extensive management tools, ultimately helping you outperform your competitors with minimum effort.
Famous Brands Using
Magento Commerce
Did you know Magento Commerce accounts for 2.35% of the total market share of the e-commerce platform worldwide? 
Well, now you do!
Prominent brands like Samsung, Ford, Nike, Volcom, Huawei, Coca-Cola, Olympus, and Asus have strategically leveraged Magento Enterprise Development services to provide customers with a seamless shopping experience, producing billions of dollars in revenue.
Integrating Magento Enterprise Development into your ecommerce game can amplify your online presence and strengthen customer engagement.
Not-so-famous brands
We have worked with plenty of SMEs to help them establish user-friendly and profitable ecommerce stores using Magento. 
SMEs like One Hanes Place, Vintage King, Silencer Shop, Sporty's, and DamaskCakes demonstrate how niche markets in different sectors can flourish by leveraging Magento's tailored features and seamless interfaces. They are not household names but use Magento Enterprise to grow their ecommerce store.
Is Magento Enterprise Development A Better Choice For Your Ecommerce Growth?
Over 770,000 merchants worldwide trust Magento Commerce (formerly known as Magento Enterprise) for its scalability, performance, advanced customization options, and multi-store management capabilities.
Magento 2 can fulfill over 250,000 concurrent orders and help deliver its product to customers on time. Let's explore the unique features that Magento Commerce offers in much more detail.
Magento 2 Is Known For Its Scalability & Performance
Companies like Olympus, who control over 70% of the global endoscopy market, have generated billions of dollars in revenue using Magento 2 as their ecommerce platform. 
It shows how vastly scalable Magento 2 is with its advanced caching mechanisms, refined database management, and well-organized code blocks. 
Magento 2 excels in handling substantial traffic volumes while guaranteeing optimal site responsiveness amidst rapid growth.
Cybersecurity Is A Top Priority For Magento Commerce
Cybersecurity isn't an afterthought for Magento. It's woven into the core of Magento Commerce, giving you and your customer all the confidence that the data is safe.
Magento 2 gives your store a security shield with its comprehensive range of built-in security features that safeguard sensitive data. 
A solid cyber security framework in today's digital world is paramount for businesses that rely on web and mobile applications to operate their daily activities.
Like Magento Commerce, our Magento developers never compromise on the security of your users and provide proper cybersecurity measures to avoid data breaches, unauthorized transactions, intellectual property theft, and other possible damage to the firm's reputation.
Magento 2 provides:
Secured configuration and setup

Trusted extensions, plugins, and themes from reputable sources

Regular updates and security patches

PCI compliance 

Two-factor authentication

Firewalls and intrusion detection tools
With its firewalls and intrusion detection tools, you can monitor suspicious activities, mitigate risks, and prevent security attacks.
Overall, Magento Commerce's security features encompass strong data encryption, regular security patches, PCI compliance, two-factor authentication, and such that significantly reduce potential damage to your ecommerce business.
Dedicated Support With Consistent Updates for Magento 2 Users & Developers
To keep your ecommerce store on a fast track, look no further than Magento 2.
It's like having a trusted ally by your side, offering unwavering support, robust maintenance, consistent updates, and upgrades to optimize performance and attract shoppers for better conversions.
And, the best part? You're always at the forefront of this ever-evolving ecommerce landscape.
Magento 2 makes upgrading to newer versions a breeze, and its customer support is like having a friendly guide on a speed dial.
Single Admin Panel To Manage Multiple Stores
Imagine overseeing multiple online stores effortlessly from a single intuitive admin panel and not having to juggle through various stores. 
With Magento Commerce's groundbreaking multi-store management capabilities, you have the power to centralize control, simplify complex tasks, ditch duplication of efforts, and streamline all your online operations. As a result, it significantly reduces the cost of integrating different systems for each of your stores since all of the behind-the-scene work is centralized.
Magento 2 Has a Smooth Integration Capability
Having a toolbox that is highly functional, versatile, and incredibly easy to use is a goldmine for every ecommerce store owner. 
And Magento 2 is no exception. 
A platform known for its scalability and integration capability, Magento 2 is like a superhero for Magento developers and store owners who can effortlessly weave in all those latest third-party tools and technologies.
From seamless payment gateways to CRMs that keep your customer relationships in great shape and shipping providers who ensure your products arrive at their destination safely and on time. 
Magento 2 provides analytics to understand user behavior and marketing tools to reach me with better messaging and ROI.  
Take your ecommerce business to a new level by streamlining every aspect of your day-to-day operations with Magento Commerce.
Additionally, you can integrate ecommerce giants Amazon and Walmart into your Magento store and efficiently list and manage your products on these platforms, synchronize inventory, track orders, and ensure consistent pricing and product information across multiple platforms.
Seems like a lot of work.
But it doesn't have to be when you have our experienced team of Magento developers at your disposal to switch, develop, migrate, and upgrade your ecommerce platform for greater returns. 
Using Magento Commerce to Manage Catalogs Across Multiple Divisions
Transform your ecommerce store into a sleek, personalized, and stylish shopping haven utilizing Magento Commerce's powerful catalog management features. 
You can easily curate, manage, and organize personalized categories and catalogs for specific groups of customers and help them shop with ease.
With a dynamic and engaging product catalog across multiple divisions within your store, customers can experience the most personalized shopping experience, resulting in better conversion rates. 
Sit back and watch your revenue spike.
Customers Will Find Your Product Easily
How often do you find a product you're looking for with a single search? 
Not so often. Right?
While we can't guarantee you will, Magento 2 will do everything with its AI-powered Algolia search extension to recommend the most relevant product possible.
Magento 2's faceted search, autocomplete, recommendations, and auto-suggestions features enable potential customers to discover their desired products faster, boosting conversion rates and optimizing the overall shopping experience.
Magento Commerce Is Optimized For Mobile
As an ecommerce store owner, you must ensure your web or mobile apps work better on mobile devices. 
Over 85.95% of the world's population has smartphones today. With this increasing number of mobile users, your business should be mobile-centric.
Magento Commerce is a perfect choice to help you create a smooth and responsive mobile experience for your customers.
Designed to adapt smoothly to various screen sizes, your Magento store will look and work great no matter what device your customers browse from. 
Furthermore, it is optimized for touch-friendly interfaces like taps and swipes that help customers navigate your store on their mobile devices without frustrations.
6 Reasons Why Startups Should Consider Magento Commerce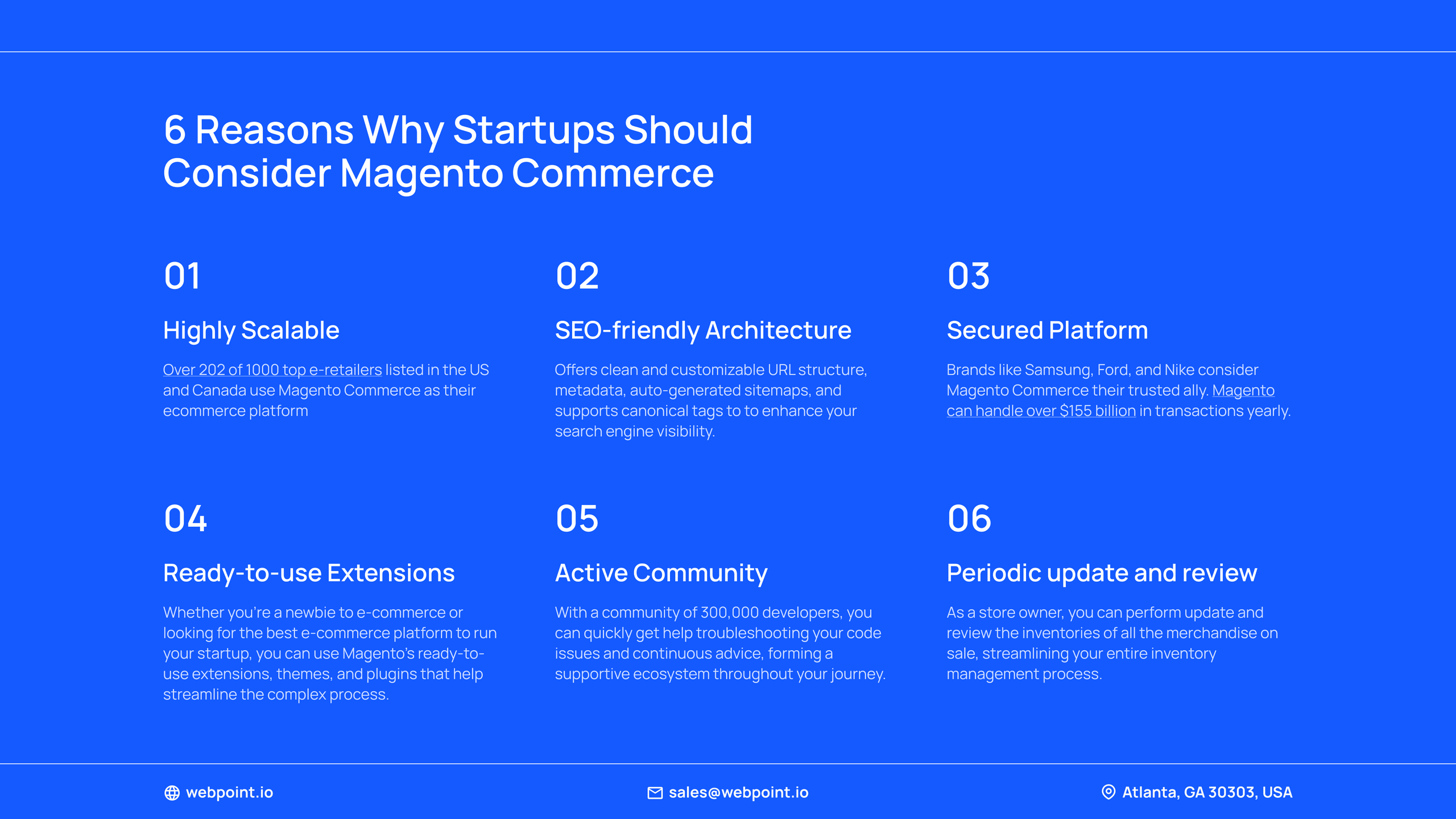 Highly Scalable If Your Startup Has Aspiring Goals
According to Magento, over 202 of 1000 top e-retailers listed in the US and Canada use Magento Commerce as their ecommerce platform, making Magento 2 one of the most preferred ecommerce platforms for top ecommerce store owners.
While Magento Commerce works flawlessly for large ecommerce enterprises, it is also a highly suitable, flexible, and easy-to-use platform for small to medium-sized businesses.
One thing is for sure: if your startup experiences massive growth, you'll already have a platform that supports and provides functionality to cater to your growing business needs.
Magento Commerce is shining armor for developers and entrepreneurs who want to build and scale their ecommerce store quickly.
Magento 2 Has SEO-friendly Architecture
Magento 2 has been designed with a strong emphasis on SEO, making it one of the most reliable search engine-friendly Enterprise development platforms. 
It offers clean and customizable URL structure, metadata, and auto-generated sitemaps and supports canonical tags to prevent duplicate content. Overall, Magento 2 helps your ecommerce website rank higher in search engines with increased visibility.
For startups, its SEO capabilities can quickly put your store on the top search engine ranking pages. With Magento 2, you'll have all the necessary structure and functionality to enhance your search engine visibility.
You can Periodically Update and Review the Inventory.
The active community of developers and users forms a supportive ecosystem that can guide you through challenges and solutions.
Ready-to-use Extensions, Plugins, and Themes
Whether you're a newbie to ecommerce or looking for the best ecommerce platform to run your startup, you'll be able to use Magento 2's ready-to-use extensions, themes, and plugins that help streamline the complex process. 
It can save startups time and development effort as they can instantly add functionality to operate their online stores. 
Startups can let Magento 2 developers do the development work. While they work on finding the best products for their store and ultimately experience better conversions.
Secured Platform Like No Other
Magento Commerce is committed to keeping your customer data safe and sound at all costs. Safeguarding your ecommerce store is Magento's strongest asset and top selling point.
Magento can handle over $155 billion in transactions yearly, making it one of the most trustable and secure platforms for running ecommerce stores. Brands like Samsung, Ford, and Nike consider Magento Commerce their trusted ally. Its constant updates and security patches shield you against security breaches and vulnerabilities.
Additionally, Magento Commerce lets Magento 2 developers compile native applications on iPhone and Android devices, ensuring mobile-friendly responsiveness across all screen sizes. 
Using the Magento Commerce platform, you can reach audiences regardless of their geographic location or the devices that they browse stores from.
Our Startup-specific Solutions
Scalable foundation and robust architecture.

User-friendly interfaces that align with your brand's identity.

A personalized shopping experience to encourage brand loyalty. Critical for startups.

Built-in SEO tools to amplify your online presence and attract organic traffic

Robust analytics, reporting, and marketing tools. Empowering you to make well-informed business decisions.

In-depth consultation with our Magento experts to scale your ecom store.
Magento Commerce
, A Platform Best For B2B Firms
Advanced Catalog Management
As a B2B firm, sometimes you have to deal with large and complex catalogs with different pricing tiers, negotiated pricing, and product attributes. 
Magento Commerce offers an advanced catalog management system that allows firms to organize and present their products in a structured and efficient manner. 
Firms can use the shared catalog feature to curate personalized product catalogs with unique pricing for different customer segments.
Store & Company Credit Feature
Magento 2 makes the product return and refund process much more manageable with its store and company credit features. Your customer can use the store credit to pay for purchases without immediate payment.
With a flexible credit-based payment system, Magento 2's company credit feature can strengthen B2B relationships. This functionality allows store owners to assign credit limits to their company accounts.
Quickly Add, Customize, and Personalize Your Requisition Lists
B2B buyers often need to purchase the same set of products. Magento Commerce lets store owners use the Requisition Lists feature to streamline the buying process. 
This feature allows buyers to optimize their procurement process by quickly adding desired items, customizing and personalizing the lists, and creating new lists tailored to their department's requirements. 
Insights Into Sales, Customer Behaviour & Order History
Magento 2's B2B Support feature offers detailed reporting capabilities and analytics incorporating insights into sales, customer behavior, customer activity, and order history to help you run proper marketing campaigns.
Its extensive integration capabilities with Enterprise Resource Planning systems, Customer Relationship Management systems, inventory management tools, and other e-commerce-related tools make Magento 2 a best-in-class solution for B2B firms.
Personalized Pricing and Quoting
Magento 2 streamlines the negotiation process. It enables you to create and manage product quotes and provide negotiation tools for buyers and suppliers.
Additionally, Magento 2 targets customer segments with unique pricing tiers based on negotiated agreements and volume discounts.
B2B Specific Extensions
Magento 2 has numerous extensions and modules specifically developed for B2B companies. With these extensions, you can enhance the functionality of your ecommerce platform and streamline complex B2B operations. 
Some known areas these extensions support are bulk ordering, quick reordering, Requests for Quotes, and so on.
Customer Segmentation and Role-based Access
You can assign specific roles to diverse customer groups with varying access levels and permissions. Magento 2's customer segmentation and role-based access allow you to present relevant products and information to the appropriate customer base.
Our Enterprise-specific Solutions:
Robust and scalable platform that can handle high traffic volumes, transactions, complex product catalogs, and fulfill any orders.

Real-time problem solving and more extended support period

Consistent reporting and consulting services

Custom development as per your requirements
What Sets Magento Commerce Apart From Other Ecommerce Platforms?
Let's dive into the Magento Enterprise Edition, aka Adobe Commerce, specific features that make this ecommerce platform unique from the competition.
Gift Cards & Options
Magento 2 allows merchants to offer tailored gifting options and unique customer experiences. With Magento Commerce, gifts are personalized based on data.
Beyond digital and physical gift cards, Magento 2 provides numerous gift-related features, including gift wrapping, personalized messages, and wish list sharing, ultimately inspiring the gift-buying nature of customers.
Magento 2 is like a trusty assistant that ensures your gifts are wrapped and handled with love and care. And that is what your customers value.
Run Tailored Marketing Campaigns & Craft Personalized Experience
With sophisticated targeting and segmentation tools, merchants can tailor promotions, content, and experiences to specific demographics by analyzing their purchase history and behavior.
This feature fosters personalized engagement, displaying the right products to the right audience.
To put it into perspective, a customer who is all about fitness will get promotions for the latest workout gear, while a sports fanatic will get ads for the newest jersey kit.
Assist Your Customer in Real-time
Magento 2's shopping assistance feature allows merchants to edit or see the content of the customer's shopping cart in real time from the admin panel. As for customers, anyone who has a registered account can obtain assistance.
Schedule Import/Export With Ease
Magento Enterprise enables merchants to set up predefined schedules to import and export product information, customer data, and inventory updates. This automation can ensure safe data transfer and accuracy while saving time, reducing manual efforts, and synchronizing ecommerce operations.
Why Webpoint Solutions To Build Your Magento Commerce Platform?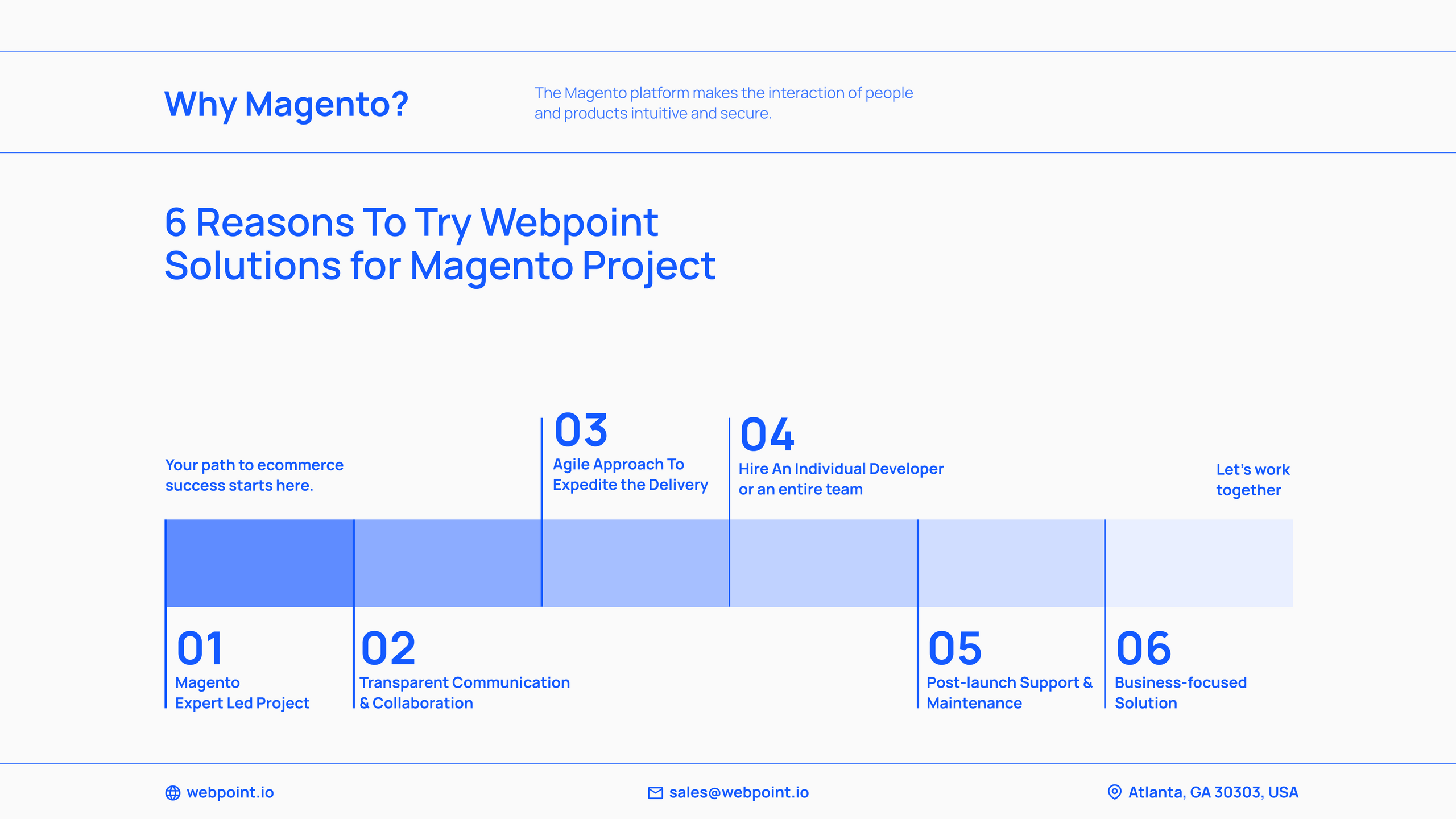 Here are the reasons for choosing Webpoint Solutions to build your Magento ecommerce platform. Our experienced Magento Enterprise developers have the talent and expertise to create a platform that provides unparalleled values and experiences for customers and admins.
Experienced Magento 2 Developers
At Webpoint, we have a dedicated team of Magento 2 developers and experts who are clinical at building ecommerce platforms and giving our clients the optimal ecommerce solution.
Our Magento 2 developers possess technical expertise and extensive experience crafting tailored solutions and transforming ecommerce stores into a powerful, efficient, admin-friendly, and user-friendly Magento commerce platform.
Transparent, Collaborative & Communicative Team
We value transparent communication and collaboration above all else. 
When our Magento developers take on your projects, you'll be involved and engaged from the initial development phase to shaping up the final product. Furthermore, our Magento developers welcome your feedback to help us shape the final solutions according to your preferences. 
This transparency and collaborative effort from both sides foster a partnership that yields a solution aligned with your ultimate goals.
Proven Delivery Methods
We apply the Agile method to manage your project. It helps you take your idea to the market fast. 
The agile approach accelerates our development process by breaking complex tasks into smaller sprints, enabling quick launches. This method helps us expedite the delivery of critical features.
Quick adaptation to feedback and continuous improvement helps us shape the solution in the best way possible.
Our Magento Enterprise(Magento Commerce) Development Services Include: 
Searching for robust custom-built Magento Commerce solutions to supercharge your online store for conversion, performance, and growth? 
Look at one of our recent Magento Commerce development projects: Damask Cakes. We helped them resolve stability, design, and performance issues.
Our on-site Magento developers have the expertise to build a reliable, scalable, and lightning-fast web store. Look at our Magento development services and tell us about your ecommerce requirements.
Hire Our Magento Developers
Webpoint has a large pool of experienced Magento developers, providing a dedicated team of developers for agencies, consulting companies, and e-retailers. 
At Webpoint, we understand that sometimes you need specialized expertise to complement your existing team. Either hand the whole project to us or hire our Magento developers to assist your team during any development lifecycle phase.
Get immediate access to our Magento tech and consulting experts and hire Magento developers either for a short term or a more extended period. It's up to you.
With clear communication and collaboration with our Magento developers, you can speed up your development process and ecommerce growth. Our Magento 2 developers can join your team at any phase of your project development lifecycle.
Magento Development
We have the best technical brains who are deeply aware of all the peculiarities of ecommerce platform development. 
Our expert Magento developers and specialists with over six years of industry experience will help you build your Magento Commerce store from scratch, develop custom extensions and themes, and provide continuous maintenance and support to ensure your platform is scalable and set out for growth.
Migration to Magento
With our migration services, you can retain all your website's functionality, data, and customizations in a proper environment. Whether you are transitioning from platforms like Shopify, WooCommerce, or Wix, Webpoint has a comprehensive process to migrate and code your Magento Commerce store to perfection. 
Our Magento Commerce migration services allow the safe transfer of your data, themes, settings, and other features to a newer version like Magento 2.
Magento Consulting
Fast-track your ecommerce success with the help of our expert Magento 2 consultants. Our Magento Commerce consulting services include:
Project research and planning

Performance Audit

Selecting themes and design

Mobile-friendly commerce solution

Branding and positioning

Growth Strategy and implementation consulting
Magento Support & Maintenance
As an ecommerce store owner, you can't afford to have technical issues around your platform. You need an immediate fix. That's where Webpoint excels at.
If you ever encounter technical problems in your Magento Commerce platform, get our Magento support and maintenance service to troubleshoot problems, install security patches, and prevent your ecommerce store from failing. Our Magento experts will help you remove bugs or solve any security fixes. 
Webpoint provides a fixed number of dedicated hours for monthly support to oversee all technical issues.
Magento Integration
Our Magento Integration services enable any backend system like ERP or CRM or external software like third-party tools for seamless integration into your Magento Commerce platform using extensive Magento 2 APIs and ready-to-use extensions. 
We help you automate complex and repetitive processes to improve customer experience. Integrating shipping providers like DHL or FedEx into your platform, you can easily manage, ship, and fulfill online orders. 
Scope of Our Magento Integration services:
Magento ERP/CRM/PIM Integration

Payment Gateways Integration

Shipping Integration

Inventory Management Integration

Marketing Automation Software Integration

Accounting Software Integration
Must-Have Technologies Recommended by Our Magento 2 Experts:
For Startups or Small-size Stores (Around 100 products):
Magento 2 Multi-Vendor Tax Manager or Avalara

Trustpilot or Google Reviews

Moosend, Mailchimp, or HubSpot Email Marketing 

DHL or FedEx Integration for Shipping System

PayPal and AmazonPay for Payment Integration
For Medium-sized Stores: (Around 1k Products)
Magento 2 Multi-Vendor Tax Manager or Avalara

Trustpilot or Google for External Reviews

Moosend, Mailchimp, or HubSpot Email Marketing 

DHL or FedEx Integration for Shipping System

PayPal, AmazonPay, or Strip for Payment System

DCKAP PIM. or Akeneo for Product Information Management

Magestore, Veego, or BoostMyShop for Stock Management

Zoho, HubSpot, Salesforce, or Vtiger for CRM
For Large Enterprises (Around 10k or more products)
Magento 2 Multi-Vendor Tax Manager or Avalara

Trustpilot or Google for External Reviews

Moosend, Mailchimp, or HubSpot Email Marketing 

DHL or FedEx Integration for Shipping System

PayPal, AmazonPay, or Strip for Payment System

DCKAP PIM. or Akeneo for Product Information Management

Magestore, Veego, or BoostMyShop for Stock Management

Zoho, HubSpot, Salesforce, or Vtiger for CRM

Mageplaza, Magebees, or Codecanyon for Product Feed Extension

AI-powered Algolia search to elevate the search experience of your store

Custom export-import (Firebear)

ERP and POS (If required)
You can request a quote; just fill out this form.
12 Things You Can Expect From Our Magento Enterprise Development Service
Consistent updates, transparent communication, and collaborative development for secure customer data.
To Wrap Up
The ecommerce industry is evolving at lightning speed, along with unprecedented opportunities for growth and success. Magento Commerce can be a logical investment if you're looking for an ecommerce platform that can handle and fuel your business growth.
Your project will be led by experienced Magento developers and experts who understand all the nooks and corners of the platform. Webpoint provides tailored ecommerce solutions that drive growth, boost performance, enhance the shopping experience, and ease up your operational tasks.
Our in-house Magento developers are ready to build you a cost-effective but powerful ecommerce platform that doesn't compromise the quality and performance of your web or mobile applications.
Fill out this consultation form below; we're just one call or email away from leading you to ecommerce excellence.
Together, let's create something wonderful.
Frequently Asked Questions
How many team members will work on my Magento Commerce project? Define their rules.
The size of the team working on your Magento Commerce Project will be determined by the specific nature of the development you require. Suppose you opt for a Progressive Web App integrated with Magento on the backend. 
In that case, the team will typically comprise 1-2 frontend developers specializing in Next JS for user interface design, another 1-2 developers focused on Magento backend functionalities, a DevOps engineer in charge of server management, and a Quality Assurance (QA) professional responsible for thorough testing. Additional team members could be added as your project scales, ensuring the necessary expertise is available for each development phase.
Who will be my immediate contact if I take your Magento development services?
You can connect with any team member dedicated to your Magento Development project. However, we strongly advise you to establish communication with the assigned Project Manager. The project manager will supervise all aspects of your Magento project's design and development processes. This approach ensures effective coordination and streamlined communication throughout the project lifecycle.
How do you handle all the in-house Magento Commerce project development tasks? Do they have the expertise? 
We assign a dedicated team of Magento developers in-house. Our team has completed several Magento-related projects and can integrate various modules available in the market and develop custom modules per your business requirements.
What pricing model do you follow? How do you plan if the project goes over budget?
We primarily follow a milestone-based pricing model to ensure transparency and accountability in our service charges. This model clarifies the costs associated with each developmental stage in your Magento Commerce project.
If we go over budget, we proactively communicate with you to decide on the following steps to maintain alignment with your budgetary preferences.
Will you keep the source files once the project is over? Will we get full ownership?
You get full ownership of all your project's source files. We don't keep it after the project is over.
How long will your support period be?
Usually, we provide 30-day guaranteed support and maintenance following project completion. The window allows final adjustments, ensures the project meets your requirements, and upholds our quality standards.
However, we offer a retainer plan option if you require extra assistance or extended support beyond this period. This plan involves a new agreement and provides continued support tailored to your evolving needs.
Can I hire a Magento developer from Webpoint?
You can hire one of our Magento developers to help you with your Magento 2 project. We can offer a dedicated team of Magento experts or individual developers per your requirements.
Together, let's create something wonderful.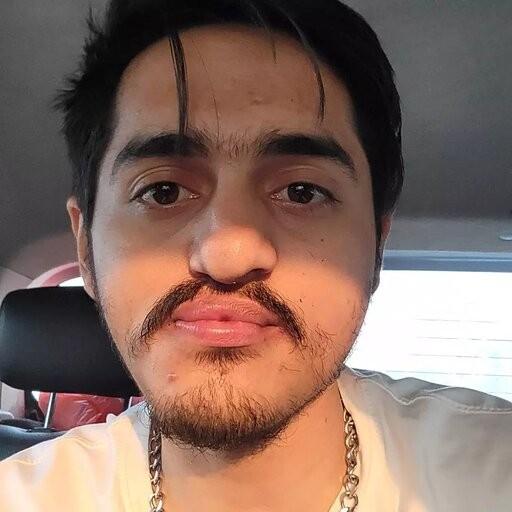 Written by
Hemanta Pokhrel
Content Writer